UIZ Offers a Mobile Survey App for Your Projects
---
UIZ will assist you to collect, transfer, and process data compiled through the process of using the mobile survey app which you can use to personally survey your area. The mobile survey app could be used for baseline surveying, monitoring, and evaluation in addition to academic and field research along with your custom brand.
Mobile Survey App features
1. Build your survey form in Microsoft Excel
2. Change, upgrade, preview and test your survey form
3. Surveys can include text, numeric, and multiple-choice questions. Survey instruction can be in form of illustrations, audio and video instructions. The survey can record GPS coordinates, record audio, take pictures or video, scan barcodes, etc.
4. App for Android platform
5. Survey quality checks
6. Affordable
7. Visualization and analysis with Google Sheets, Google Earth
8. Publish selected data directly to Google Spreadsheet, Google Fusion Tables, and Json Server.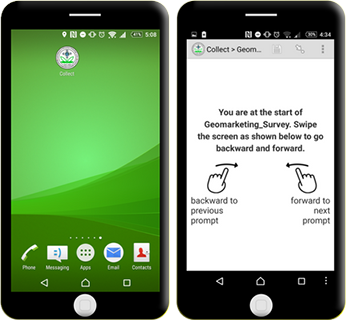 How we work for Mobile Survey
UIZ offers this technology along with technical support and capacity building. We offer integrated solutions to meet your needs as shown below:
1. You can contact us at any time if you have any problems or needs. Feel free to contact us about your survey problems or needs by sending us an E-Mail at

[email protected]

or call us at
Telefon: 030 20679113. If you already have your project requirements documented, please email us with your contact details and survey timeline.
2. We will contact you with your mobile survey solution.
3. We will work together with you on the survey form and app design in conjunction with your timeline and needs.
5. We will train you and your team how to use the survey app, datasets, and export processes as per your project's needs.