Agricultural Mapping with remote sensing

---
UIZ uses imagery data at different spatial, spectral and temporal resolutions for agricultural mapping, crop assessment, crop health, change detection, environmental analysis, irrigated landscape mapping, yield determination and soils analysis. GIS application in agriculture is used for developing elevation models for efficient drainage and leveling, managing assets and preservation of the environment.
Agricultural mapping is essential in order to get the most accurate information for agricultural research and development. UIZ focuses on scheduling and timing of image acquisition and is able to receive the type of information that the customer is looking for. Once collected, data can be implemented into a mapping application such as GIS for management and control of agricultural resources by taking advantage of satellite or aerial remote sensing technology with the improvement of the present systems of acquiring and generating GIS agriculture and resources data.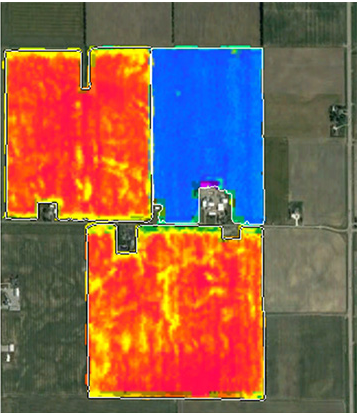 GIS application in agriculture is beginning to play an increasing role in production throughout the world by helping farmers to increase production, reduce costs and manage their land more efficiently. Agricultural GIS also plays a vital role in soil and irrigation management and monitoring.
Agricultural Mapping with remote sensing at UIZ, Berlin
UIZ will take advantage of satellite and aerial remote sensing technology with the improvement of the present systems to acquire and generate agricultural and resources data. The image processing analysts at UIZ have much experience in:
1. Crop mapping yield estimation

2. Soil and irrigation amendment analysis

3. Agricultural suitability assessment

4. Erosion identification and remediation

5. Agricultural mapping for detailed vegetation cover and monitoring

6. Change detection studies and developing crop models
7. Damage and land degradation assessment
For more information about agricultural mapping with remote sensing: