What is WebGIS?
Web GIS is a progressive form of scattered information system and it consists of Data that occurs between a server and a client, where the server is a Geospatial Information System (GIS) server and the client is a web browser, mobile and desktop applications. The server has a unique Uniform Resource Locator (URL) so that clients can find it on the web.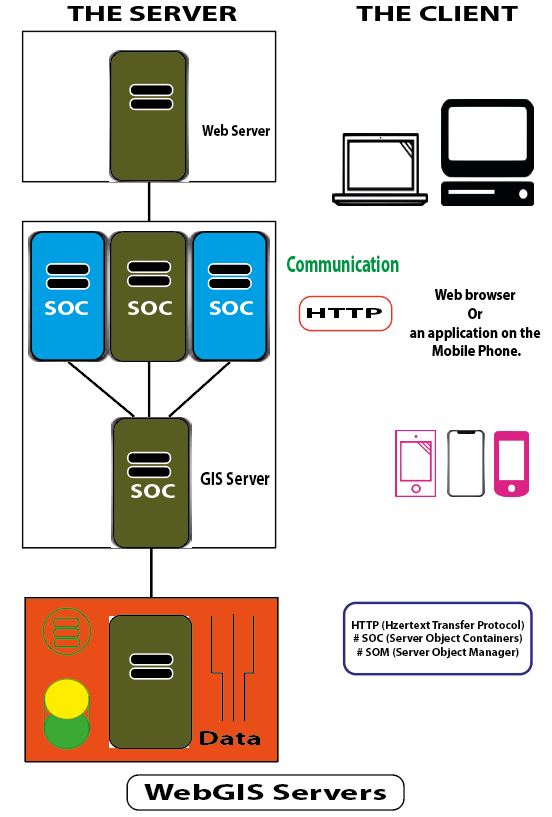 Below you can find some key-elements extremely-important to web GIS:
The server carries a URL so that the client can spot it on the web.
The client depends on the Hypertext Transfer Protocol (HTTP) specifications to deliver inquire for the server.
The server carries out the inquired GIS operations and grants replies to the client via HTTP.
The format of the reply sent to the client perhaps in various formats, such as HTML (Hypertext Markup Language), XML (Extensible Markup Language), binary image or JSON (JavaScript Object Notation).
Advantages of web GIS:
Distance doesn't matter all we need is access to the Internet for getting information over the web. And web GIS provides distinct choices over traditional desktop GIS, including the following:
A Universal approach: Access from anywhere in the world with the help of internet connectivity.
A vast number of Users: Users can be many and not limited to a particular number.
Superior cross-platform potential: Most of the WebGIS clients are web browsers like Internet Explorer, Google Chrome, Mozilla Firefox, Apple Safari, etc. Because these web browsers are compatible with HTML and JavaScript standards, WebGIS that relies on HTML clients will typically support different operating systems such as Microsoft Windows, Linux, and Apple Mac OS.
Cost efficiency: Most of the content on the internet is free of charge to end-users, and this also applies to WebGIS. Normally, you do not need to buy any software or pay to use WebGIS service.
Simple to adopt: WebGIS is planned for people with different themes, including public users who don't know what GIS is and their uses. WebGIS is designed in such a way that navigating is as simple as using a general website.
Consolidated amends: one update works for all clients. This policy of maintenance makes WebGIS a perfect match for distributing real-time data and making judgments.
What is the Use of WebGIS For Your Institution?
WebGIS delivers analytics to geographic or Spatial data in an approach that wasn't achievable earlier. Previously, geographical data had to be processed, edited, modified and extracted to solve a fixed set of queries. Currently, the data is transformed into web maps or services that are softened up with various layers into a webGIS, which provides the hope to solve any sort of questions. The data is ready to use and to dynamically answer queries and provides decent explanations. presently, data no longer needs to be processed for each individual question. Web GIS is much more flexible, lively, personalizable and able to provide an efficient system of work.
What is GeoServer?
GeoServer is an open-source software server that permits users to share and edit geospatial data. It takes information from the major geo data sources and shows them using open standards. It supports both Vector and Raster format files. Geoserver provides high-quality services, administering huge amounts of data and thousands of map layers.
Open Geospatial Consortium (OGC) is the source of open standards used by Geoserver and it is also mainly used all over the world. It contains several research organizations that hook up to improve the open standard for geospatial services.
The major services offered by standards are delivery of data online, styling, interacting with sensors and sharing of metadata catalogues. Geoserver allows users to display spatial information to the world of different map formats.
Geoserver supports many implementations some are mentioned below: Openlayers is a web mapping client. That is, a javascript library that can be used in the browser to load WMS and WFS layers, but also geojson and other kinds of data.